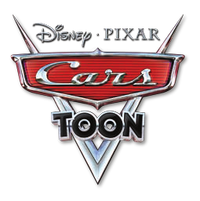 Cars Toons otherwise known as Mater's Tall Tales is an American series of short animated films or Cars Toons by Pixar. It features Mater and Lightning McQueen from Cars. Larry the Cable Guy reprised his role as Mater, while Keith Ferguson replaced Owen Wilson as the voice of Lightning McQueen.
The series' first broadcast was on October 27, 2008, on Toon Disney, Disney Channel, and ABC Family. Not exclusive to television, some of those episodes have also premiered on DVDs/Blu-rays, or as a theatrical short.
Ad blocker interference detected!
Wikia is a free-to-use site that makes money from advertising. We have a modified experience for viewers using ad blockers

Wikia is not accessible if you've made further modifications. Remove the custom ad blocker rule(s) and the page will load as expected.